Email - david@davidlemm.co.uk

Phone - [+44] 07736038062

Instagram -

@david_lemm



Twitter -

@david_lemm
David Lemm is visual artist based in Edinburgh. Alongside his self directed practice he works on research led projects, collaborations and commissions.
Working across a range of processes, his varied output is informed by a contextual and curious approach to making.

Contact David if you would like to discuss a project.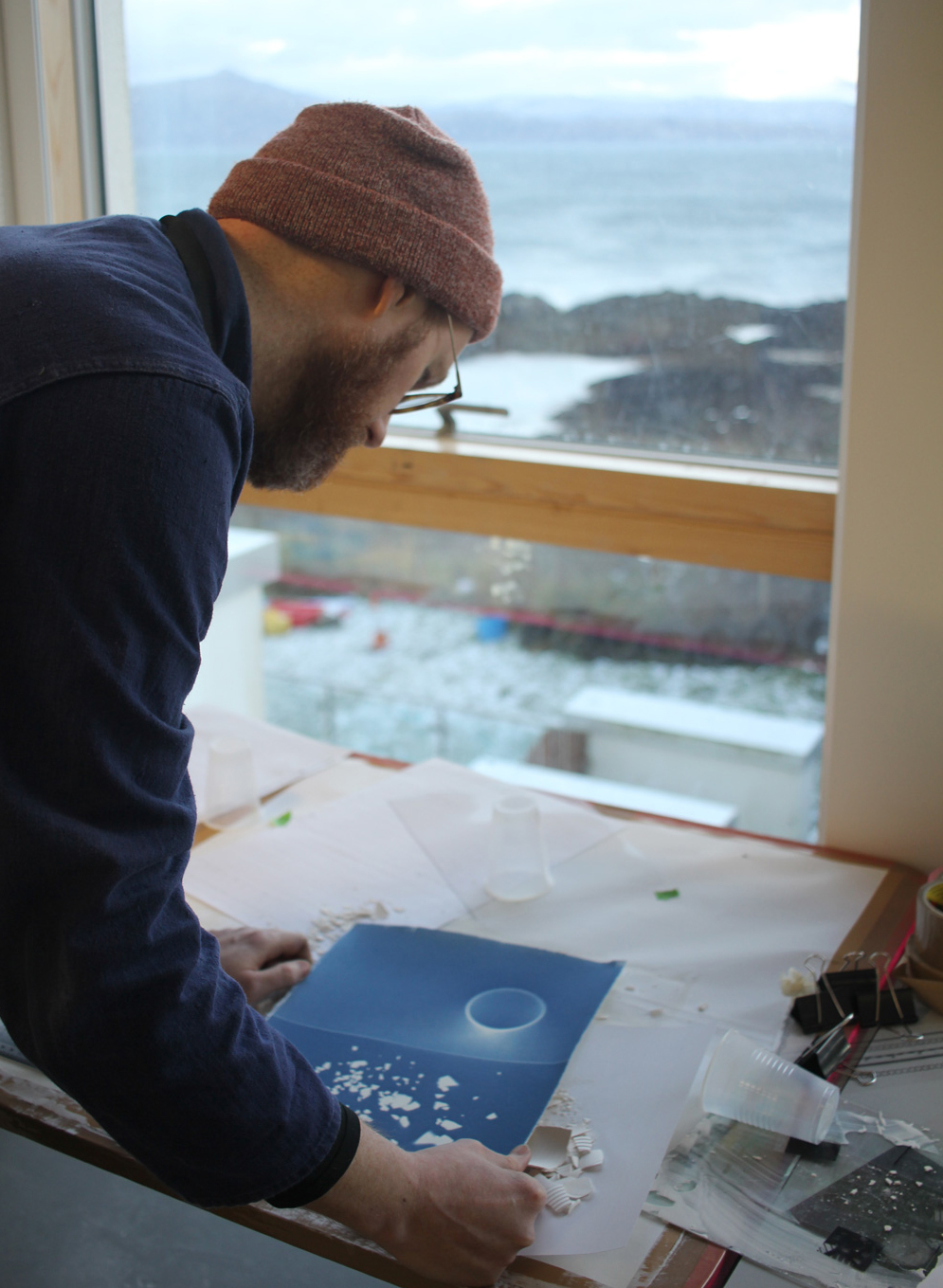 Residencies / Research
2019 - (w)ORD project, with SSA and BAG Art Camp, Gulen, Norway
2019 - Refectorio Residency with Ross Fraser Mclean, Summerhall, Edinburgh
2017 - Jon Schueler Scholarship Visual Artist in Residence, Sabhal Mòr Ostaig, Skye
2015 - Illustrator in Residence, House of Illustration, London
2014 - Mapping Eigg, Bothy Project + lifeoffthegrid.net, Isle Of Eigg
2014 - Ethnograms, lifeoffthegrid.net + ASCUS, Dovecot studios, Edinburgh
2014 - The Chamberlain Lab, Strathclyde University + ASCUS, Glasgow
2012 - The Onaway Trust Library, Pitlochry

Selected Exhibitions / Screenings
Solo:
2018 - Passing Place, Sabhal Mor Ostaig, Skye
2016 - Mapping King's Cross, House of Illustration, London
2015 - Debris and Phenomena, Edinburgh Printmakers

Group + Screenings:
2019 - Utopia - What's Yours?, Gracefield Arts Centre, Dumfries
2019 - Palimpsest, An Lanntair, Isle of Lewis
2019 - In Progress, Architecture Fringe, Lighthouse, Glasgow,
2019 - Gone Fishing, DOK Artist Space, Edinburgh
2018 - SSA Annual Exhibition, Royal Scottish Academy, Edinburgh
2018 - Glasgow Garden Festival '18, The Glad Cafe, Glasgow
2018 - RSA Open 2018, Royal Scottish Academy, Edinburgh
2018 - 3x3, Architecture Fringe, Edinburgh Printmakers
2018 - Simply Beaming w/ Embassy Gallery + Rat Hole Gallery, Tokyo
2017 - RSA Open 2017, Royal Scottish Academy, Edinburgh
2017 - Paper To Gold, Edinburgh Printmakers
2017 - Open Close, Royal Mile, Edinburgh
2016 - Fest Anca International Animation Festival, Zilina
2016 - Blueprint : Works on Paper, DOK Artist Space, Edinburgh
2015 - Aesthetica Short Film Festival, York
2015 - KLIK! Animation Festival, Amsterdam
2015 - Parallel Perspectives, Edinburgh International Science Festival, Summerhall
2014 - Hunting For Answers, Strathclyde University, Glasgow,
2014 - Citizen Curator, City Art Centre, Edinburgh
2013 - SSA Annual Exhibition, Royal Scottish Academy, Edinburgh
2013 - Cutout Fest International Animation Festival, Querétaro
2013 - Pictoplasma Animation Festival, Berlin
2012 - The Middle Place, The Old Ambulance Depot, Edinburgh
2012 - Salon Neu, Embassy Gallery, Edinburgh
2012 - Emerging Scottish Artists, w/ The Skinny Magazine + Culture Label
2011 - Aesthetica Short film festival, York
2011 - Residents, Such and Such Studio, Edinburgh
2011 - VAS Annual Exhibition, Royal Scottish Academy, Edinburgh

Workshops / Events / Talks
2016 - Ongoing - Visiting Lecturer, Edinburgh College of Art

2019 - Invited Speaker and Workshop, Institute for Gestaltung1, University of Innsbruck, Austria
2017 - Workshop, Sleat Primary School, Skye
2017 - Workshop, National Library of Scotland, Edinburgh
2016 - Guest Lecturer, Kingston University, London
2016 - Workshop, Leith Primary School, Edinburgh
2016 - Artist's Talk, House of Illustration, London
2015 - You Are Here, Interactive event, House Of Illustration, London
2015 - Guest Lecturer, University for the Creative Arts, Farnham
2015 - Workshop, House Of Illustration, London
2015 - Artist's Talk, University of Highlands and Islands, Portree, Skye
2015 - Workshop w/ ATLAS Arts + BBC Ten Pieces, Portree Primary School, Skye
2015 - Artist's Talk, Edinburgh Printmakers
2015 - Landmarks, Interactive event, Edinburgh Printmakers
2015 - Workshop, Tollcross Primary, Edinburgh
2014 - Workshop, Isle of Eigg

Education
BA(Hons) Animation (First Class)
Duncan of Jordanstone College of Art + Design, Dundee


All work copyright © David Lemm